An itinerary through Sicily: discover the best of Italy
Sicily – Timeless Beauty
DURATION
11 days
FROM
2,675.00 €
Extraordinary journey through the
marvels of Sicily
, to discover the
layers of history
left behind by the Normans, the Greeks, the Romans and the Arabs. A perfect fusion of
archaeology
,
tradition
,
food & wines
,
colours
and
fragrances
.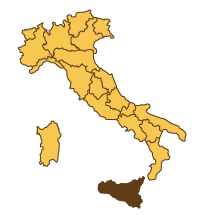 • 10 overnights in selected 4-star hotels with full breakfast (2 nights Palermo, 1 night Marsala, 1 night Agrigento, 2 nights Ragusa, 2 nights Siracusa, 2 nights Taormina)
• Private guided visits with English speaking guides in Palermo – Monreale (Cathedral) – Segesta (Doric temple and Greek Roman Amphitheatre) – Selinunte (Arheological Park) – Agrigento (Valley of Temples) – Piazza Armerina (Villa Romana del Casale) – Noto – Siracusa (Archeological Park, Temples of Apollo and Minerva, Cathedral) – Taormina (Greek-Roman Theatre); including all the entrance fees to the sites
• Welcome Dinner in Palermo
• Wine tasting Marsala
• Genuine dinner Agrigento
• Unique dinner Ragusa
• Wine tasting and lunch Mount Etna
• Farewell dinner in Taormina

* The tour is available as self-drive or by private chauffeured car or van available for all transfers and excursions
Day 1 / Welcome to Palermo
Arrival and transfer to the hotel. Enjoy some time at leisure. Welcome dinner. Overnight.
Day 2 / Discover Palermo & Norman Monreale
Breakfast. Morning private guided walking tour to discover the baroque city of Palermo, visiting the main sights of the city. Free time for lunch. In the afternoon visit to the hilltop town of Monreale, dominated by its magnificent cathedral built in the Norman period, with an incredible cloister, of which the walls are almost completely covered by Byzantine mosaics. Return to Palermo. Overnight.
Day 3 / Layers of history in Segesta, mesmerising Erice and a Marsala wine-tasting
Breakfast. Morning departure for a full day tour on the way to your next destination. Stop in Segesta with a magnificent Doric temple and Greek Roman Amphitheatre. Segesta also boasts the archaeological remains of many other times and cultures, such as the ruins of a Norman castle, a small church and a mosque. Then continue to Erice, set on the top of Mount Erice, and explore winding streets lined with examples of Gothic, Baroque and Renaissance architecture. Lunch on your own and time at leisure. Continue to Marsala and wine-tasting at Donnafugata winery. Overnight.
Day 4 / The ruins of Selinunte and Agrigento's Valley of the Temples
Breakfast. Morning departure for your next destination. Stop at Selinunte for a walk through the largest archaeological park in Europe, over the Acropolis looking at the remains of temples, residential houses and the old town walls. Then on to the Valley of the Temples, one of the most representative sites of Greek civilization in the Mediterranean area just outside the town of Agrigento with some well-preserved Doric Temples dating back to the fifth century B.C. and the remains of the Greek city of Akragas. Dinner. Visit of the Valley of the Temples by night. Overnight.
Day 5 / Extraordinary mosaics en route to Ragusa
Breakfast. Departure to Piazza Armerina for a visit to Villa Romana del Casale, located about 5 km outside the town. It is the richest, largest and most complex collection of late Roman mosaics in the world. The Villa Romana del Casale is a UNESCO World Heritage Site. After the visit continue to Ragusa. Dinner and overnight.
Day 6 / Ragusa Ibla and Modica chocolate
Breakfast. The best activity in Ragusa is wandering… meandering along the character-filled lanes of Ragusa Ibla or clambering up the steps towards the upper town and enjoying the great, classic view over Ibla. This is an inviting town for even more leisurely pursuits - a long drink at a cafe table on the pretty sloping piazza in front of the Duomo, a wine-flavoured gelato, a splendid meal at one of the town's small restaurants or a stroll in the park. In the afternoon visit of Modica, a city of architectural, artistic and scenic attractions. The tour will include a stop at a pastry shop, famous for its chocolate delicacies. The traditional flavours of Modica chocolate are vanilla, cinnamon, and hot chilli pepper (peperoncino). Return to Ragusa and overnight.
Day 7 / Baroque Noto and the Archaeological Park of Siracusa
Breakfast. Departure for Siracusa. Stop in Noto for a guided visit of this old historic centre, a place of extremely ancient origin and home to an incomparable array of typical Sicilian baroque architectures and ambiences. Continue to the Archaeological Park of Siracusa to visit the beautiful Greek Theatre, the Roman Amphitheatre and the Ear of Dionysius. Overnight in Siracusa.
Day 8 / Explore Siracusa and the city's most beautiful corner: Ortigia
Breakfast. Morning tour of Siracusa, one of the great cities of Magna Graecia, displaying historical and mythological roots of Ancient Greece. In the afternoon time at leisure to visit Ortigia, Syracuse's island heart. The best way to see the island of Ortigia is just to wander. It's difficult to get lost… it measures just 1 km by 500 metres, but packed with over 2,500 years of history. Architectural styles vary widely, encompassing Greek and Roman remains, Mediaeval Norman buildings and a great deal of Baroque. Enjoy dinner on your own. Overnight.
Day 9 / Mount Etna, a winery visit and on to Taormina
Breakfast. Morning departure to Mt. Etna where you will discover old craters, caves, and spectacular sceneries. Taste the prestigious wines from grapes grown in the volcanic soil and enjoy lunch featuring the authentic flavours of Sicily at a local winery. Continue to Taormina. Overnight.
Day 10 / Spectacularly perched Taormina
Breakfast. In the morning enjoy a guided walking tour through the historical centre, visiting the Greek Roman amphitheatre. Afternoon at leisure to enjoy Taormina. Farewell dinner and overnight.
Day 11 / Goodbye Sicily