Gems of Tuscany & Umbria
DURATION
4 days
FROM
667.00 €
Embracing the excellences.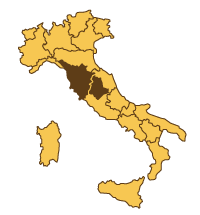 • 3 nights in selected 4-star hotels with full breakfast (Cortona)
• Private guided visits with English speaking guides in Cortona and Città della Pieve; including all the entrance fees to the sites
• Dinner (Cortona)
• Typical lunch (Città della Pieve)
• Winery visit and lunch at Frescobaldi's Castelgiocondo
*The tour is available as self-drive or by private chauffeured car or van available for all transfers and excursions; possibility of pre/post tours (on request)
Day 1 / Hello Cortona
Arrival. In the afternoon meet your local guide for a walking tour in the jewel of Tuscany. Cortona, birth place of famous artists as Luca Signorelli and Pietro da Cortona. Characterized by its medieval palazzi and small streets Cortona also offers amazing views over and beyond the Valdichiana and to the monte Amiata. Dinner and overnight.
Day 2 / Città della Pieve and the masterpieces of Il Perugino
Breakfast. Today you will enjoy a full day excursion starting from a guided visit of Città della Pieve, birthplace of Perugino, one of the most famous Italian Renaissance painters. In the Cathedral admire an altarpiece by Perugino and right in the Chapel get astonished by one of his masterpieces "The Baptism of Christ" (16th century). The layout of Citta della Pieve was completed around the 13th century and has been preserved almost intact over the centuries. The town plan has important and interesting symbolic meanings - in fact it looks like an eagle, the symbol of Emperor Frederick II, who died in 1250. Lunch in a local restaurant. In the afternoon, en route back to Cortona, enjoy a moment of relax at the Outlet Village Valdichiana. Overnight.
Day 3 / Savour fine wines in Montalcino
Breakfast. Today will enjoy an extraordinary Tuscan experience. Fall in love with the rolling landscapes, the colours and fragrances on your way to Montalcino. Savour Italy's most famous wines during a winery visit and tasting at Frescobaldi's Castelgiocondo, followed by a genuine lunch. Return to Cortona and overnight.
Day 4 / Goodbye