Art, history and a glass of wine
DURATION
5 days
FROM
830.00 €
All about discovering art and history in Florence, savouring wines in the Tuscan hills and slipping into a dream in a fairy-tale Castle.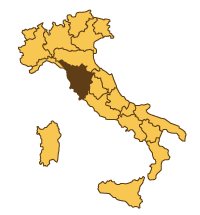 • 4 nights in selected 4-star hotels with full breakfast (2 nights Florence, 2 nights Figline Valdarno)
• Private guided visits with English speaking guides in Florence (the Cathedral, Santa Croce Church); including all the entrance fees to the sites
• Entrance tickets to the Uffizi Gallery
• Visit Abbey of Vallombrosa
• Dinner (Florence)
*The tour is available as self-drive or by private chauffeured car or van available for all transfers and excursions; possibility of pre/post tours (on request)
Day 1 / Florence, cradle of the Renaissance
Arrival. In the afternoon meet your local guide for a morning tour of Florence, the birthplace of the Renaissance, with its famous highlights… Michelangelo's David, the Baptistery, Giotto's bell tower, the Cathedral of Santa Maria del Fiore (the Duomo) and the picturesque Signoria Square. Here you may take the opportunity to admire statues by Cellini, Giambologna and Ammannati before proceeding to the Ponte Vecchio and the Santa Croce Church, containing the tombs of illustrious Florentine citizens such as Michelangelo, Galileo and Machiavelli, as well as fascinating works by Giotto and Donatello. Dinner and overnight.
Day 2 / Treasures of the Uffizi Gallery
Breakfast. Today visit the inspiring Uffizi Gallery. The remainder of the day is yours to explore this amazing city as you please; from a stroll on the Ponte Vecchio bridge with its ancient jewellery shops to the most famous fashion boutiques… don't miss the many culinary offerings. Overnight.
Day 3 / Between "sacred and profane"
Breakfast. Departure to Nipozzano for a winery visit and tasting at Frescobaldi's. En route to Figline Valdarno, stop at the Abbey of Vallombrosa, Benedictine community that lives and continuous to have lived in this monastery since 1036. Arrival at the hotel in Figline, dinner and overnight.
Day 4 / Tuscan landscape and Chianti wines at the Brolio Castle
Breakfast. Today tour the Chianti area, including a visit to the Brolio Castle for a guided tour that takes you through history by visiting the 12th century castle including the gardens, the Ricasoli family's private chapel and unique museum. After this visit to the past, you will visit the ultramodern wine-making facilities and finish the tour with a special wine tasting and lunch. Barone Ricasoli is the fourth oldest family in the world, in possession of the same company for 32 generations, and the oldest winery in Italy. Don't miss the chief town of the Chianti Classico wine zone, Greve, developed on the flat ground of the Greve valley as the market for the fortified villages, castles and farm houses on the surrounding hilltops. The rebuilt church of Santa Croce, which houses some beautiful paintings of the school of Fra Angelico, stands at the top of the asymmetrical main piazza. Overnight.


Day 5 / Bye Bye Tuscany